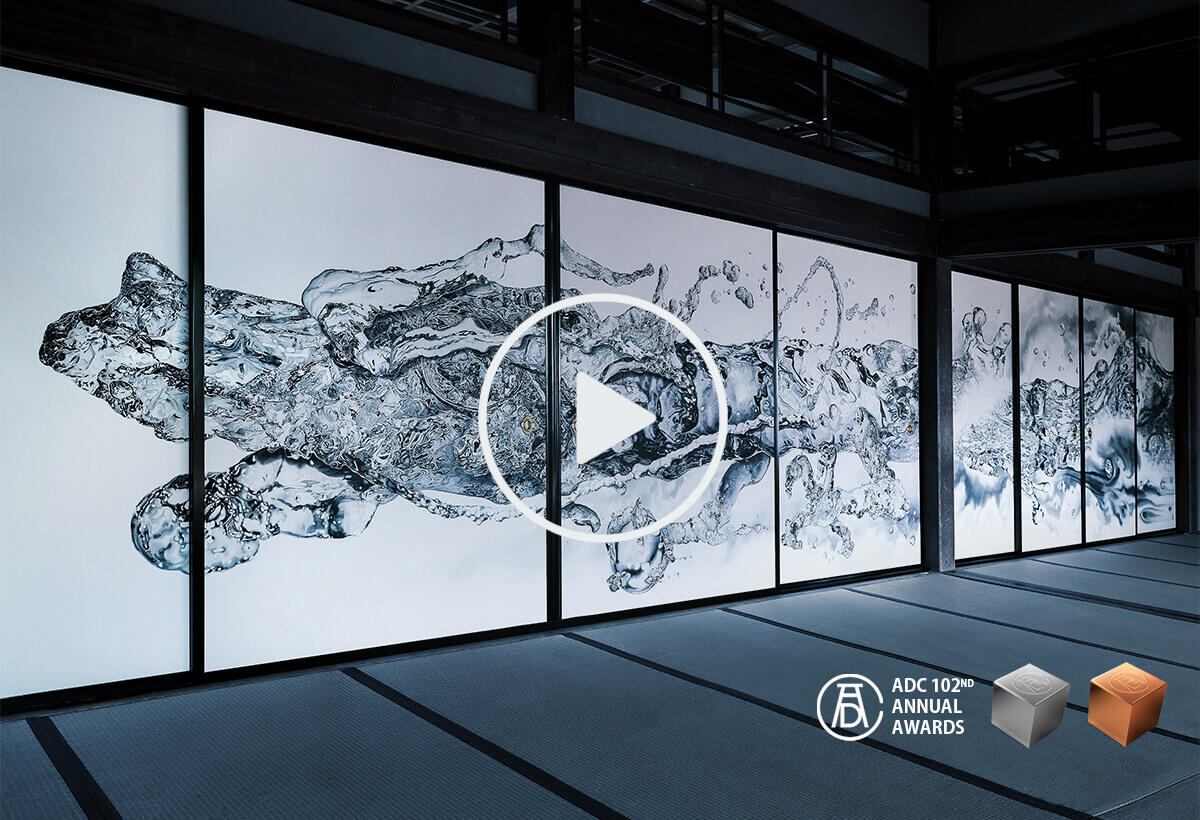 OHGUSHI's fusuma painting "Unryu-zu" achieved a double award of silver and bronze at the international advertising award show ADC 102nd Annual Awards.It obtained international acclaim as an innovative work that went beyond the classic Japanese style of beauty while employing traditional ink painting techniques.We extend our heartfelt thanks to everyone involved, including every member of the entry materials production team. ADC Annual Awards is the oldest international design award show established by the advertising art organization "Art Directors' Club (ADC)" in 1921.
襖絵「雲龍図」が国際広告賞のニューヨーク ADC賞(ADC 102nd Annual Awards)にて、銀賞・銅賞の二冠を達成しました。水墨画の技法を継承しつつ、日本の古典的な様式美を更新した斬新な作品として、国際的評価を得ることができました。ノミネート制作メンバー、関係者の皆様に心から感謝申し上げます。ADC 102nd Annual Awards とは、1921年に広告美術団体「アート・ディレクターズ・クラブ(ADC)」によって設立された、世界で最も歴史あるデザインの国際賞です。
■ADC 102nd Annual Awards 
https://www.oneclub.org/awards/adcawards/-search/OHGUSHI+
Silver: ILLUSTRATION / Mural
Bronze: ILLUSTRATION / Design for Good – Illustration
■Project: UNRYU THE WATER DRAGON
---
■CREDITS
Client: Saijo Inari-san Myokyoji Temple / Okayama  (最上稲荷山妙教寺 / 岡山)
Artist: OHGUSHI 
Art director and Photographer: Shohei Sawada
Shot and Edited: Takuma Kimura
Composer:Ayako Taniguchi
Photographer: Taro Inoue
Producer: Daisuke Nagamori
---
■Public viewing
The internationally acclaimed "Unryu-zu" will be on public display over the following period:
Public viewing: June 29th, 2023 – July 20th, 2023 (displayed for the public once every year)
Exhibition venue: Saijo Inari-san Myokyoji Temple(Okayama city Japan)
Admission free
Please take advantage of this special once-a-year chance to fully enjoy the real work in the historical Great Hall built in 1916. 
■公開情報
国際的に高い評価を得た「雲龍図」、下記期間に公開予定です。
2023年6月29日(木)~7月20日(木) 10:00~15:00
会場:最上稲荷山妙教寺 大客殿
入場無料
一年に一度のこの機会。是非とも大正時代からの歴史ある大客殿にて、ゆっくりとご堪能くださいませ。